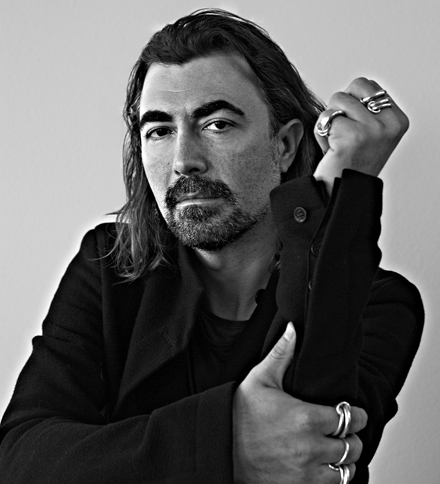 Yves Spinelli
Yves Spinelli was born in Honolulu, the son of Italian hairstylists. His introduction to the fashion world came through his father Antoine Spinelli, who spent time between Hawaii and New York City working alongside renowned hairstylists Paul Mitchell, Garren Defazio and Roger ompson in the 70's and 80's.
Yves studied jewelry in high school at Punahou. A er moving to Los Angeles in 1997, he began his career in luxury fashion working at the iconic boutique Maxfield, moving up to store manager and top salesperson of Max eld Bleu from 2005 – 2009.
After years of working at Maxfield with some of the best designer collections in the world, Yves was inspired to start designing jewelry. Yves yearned for something clean and architectural. He created a set of linked rings of different thicknesses which could be worn a number of ways – spread across three fingers, or stacked on one. From this first set he immediately began taking private orders.
Spinelli Kilcollin continues to develop their voice by combining a contemporary minimalist aesthetic with intricate craftsmanship and materials, aspiring to become a dominant voice in the luxury market.
Kultia proudly presents to you Spinelli Kilcollin.